Dinell McCoy is a Hummingbird teacher, working with our youngest infants. Her favorite aspect of the job is seeing her students' little faces light up when they come to school to learn and play. She loves being a part of each student reaching even the littlest goals each day, like crawling, walking, and scooting on their belly.  
These milestones in a child's early years makes working at The Nest Schools feel so happy and rewarding for Dinell. She says that working with children has brought her hope, both in her personal and work life.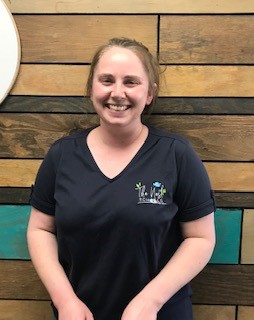 Throughout her time at The Nest Schools, Dinell has worked on self-improvement, primarily by building and improving on her skills. She has focused heavily on her interpersonal skills and has recently joined The Nest School's Mentor Program, Under My Wing. She strives to be more outgoing and influential on others, and now she has her eyes on furthering her career by becoming an Assistant Director one day! Go, Dinell! 
When describing her work life to her best friend, she rants and raves about the strides that The Nest Schools has made and gushed about how happy her and her co-teachers have been. She also loves that there are so many added resources for the children, and it feels good to personally have them as a teacher, as well. 
Dinell is excited to see the improvements that The Nest Schools will continue to bring to her school during its transition.  
In her personal life, Dinell has two children: a daughter and a son. She considers herself a homebody and loves to be comfortable with her family. Together, they enjoy video games and board games. They also enjoy watching Encanto, over and over again.  
We are so lucky to have Dinell on our team and can't wait to see her excel in her career!